helping writers become published authors
The Literary Center, a branch of MSI Press, is located in San Juan Bautista (physical office), and supports local authors, writers looking to publish for the first, and self-published authors looking for a traditional contract — through services, including coaching, book sales on consignment, events, and education (presentations, online courses, local classes).
Services
Services for Writers
If a service is needed by an author, including coaching, we offer it! That includes the full range of editorial services (developmental editing, editing, copyediting, proofreading), the full range of graphic design services (book covers, illustrations, typesetting, design of promotional materials), marketing/promotional support, and just about anything else related to the book publication process.
Coaching services take the writer from initial idea through the mechanics of writing and publishing. Support for those looking for a traditional publisher, a literary agent, or self-publication through identification of legitimate printers and non-traditional publishers.
Get our services brochure with full description and prices: Publishing Packages Publishing Packages.
Services for Local Authors
Are you an author living within commuting distance of the TLC? There are many ways we can help you.
Come in and talk to the TLC Director, Dr. Betty Lou Leaver, or Manager, Carl Leaver, and learn how we can help you.
Sell your book through us on consignment.Up
Hold a book-signing event.
Teach a course at our center or online through us.
Let us host your public presentation.
Join our 2:00 Saturday afternoon discussion group of local authors on the first Saturday of each month: share and learn (or, as we call it in gest, snack and yak).
Upcoming Events

PRESENTATION ON STAYING FIT FOR WOMEN, INCLUDING AND ESPECIALLY PREGNANT WOMEN
Brittany Renz, fitness trainer at Anytime Fitness and author of Girl, You Got This!
Date and time TBA. September 2019
 Past Events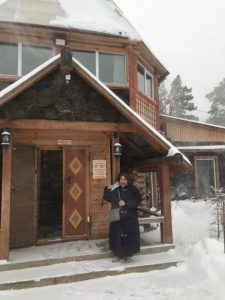 PRESENTATION ON NORTHERN SIBERIA AND THE RUSSIAN FAR EAST
Dr. Betty Lou Leaver will give a community presentation on her recent working trip to Yakutia and several Russian Far Eastern cities.
March 30, 1:00-3:00
Come get a taste of exotic places through food candy and eye candy.
RSVP 831-593-1120 (leave message if no answer) or directortlc@msipress.com; space is limited.
Classes, Workshops,
Seminars, & Courses
Pet Memoirs
Have you lost a pet or just have one you love dearly? On Wednesdays, The Literary Center (next to the Windmill grocery story) will offer free sessions on how to make a memorial book for your pet. Bring photos, texts, and memories. Free session. Free coffee, tea, and water! 3:00-4:00.
WANT TO SEE A SAMPLE BOOK THAT YOU CAN USE AS A TEMPLATE OR FOR IDEAS ON HOW TO ORGANIZE YOUR OWN BOOK BUT CANNOT DROP IN, ORDER A COPY OF INTREPID FROM OUR WEBSTORE.. USE CODE FF25 TO GET A 25% DISCOUNT. click here to order
CONTACT US IF YOU WOULD LIKE US TO WRTE YOUR BOOK FOR YOU — WE WILL INTERVIEW YOU AND TURN YOUR INTERVIEW AND PHOTOGRAPHS INTO A MEMORIAL BOOK
directortlc@msipress.com
So, You Want to Publish!
This course consists of six 90-minute sessions. Topics overview all areas of publishing a book from conception to post-production marketing and answers the big questions as to whether to self-publish, hybrid publish, or hold out for traditional publisher (and how to go about finding a traditional publisher–and how to prepare a book to appeal to a traditional publisher). The state of the field of publishing books today is the realistic framework of all sessions.
Session 1. What You Need to Know But Hvae Trouble Finding Out
This session focuses on the process of publishing at its pitfalls–how to avoid the scams and costly mistakes.
$20 in-person session. Next session: March 9 at TLC 10-12 a.m.
Free booklet for the session: Preparing to Publish a Book: What You Need to Know but Have Trouble Finding Out
MISSED THE SEMINAR? GET THE DOWNLOADABLE POWER POINT SLIDES USED IN THE WORKSHOP FOR $5 AT THE MSI PRESS WEBSTORE (TLC 001).
PERSONALIZED COACHING AVALABLE ON THIS TOPIC:
CONTACT directortlc@msipress.com.
Session 2. The Writing and Editing Process TBA
Session 3. The Production Process. TBA
Session 4. Post-Production Marketing. TBA
Session 5a. Finding a Publisher (including contract guidance). TBA
Session 5b. Doing It Yourself: Self-Publishing & Hybrid Publishing. TBA
Book available for session 5: Publishing for Smarties: FInding a Publisher (Ham). Sold as part of this course for $this 5; otherwise, $19.95)
CANNOT MAKE THE WORKSHOP? OR MISSED IT?
GET THE BOOK FROM THE MSI PRESS WEBSTORE: click here.
Session 6. Understanding & Negotiating a Publishing Contract
This session walks authors through potential unfair practices as well as expected and typical practices. It does not take the place of legal advice. (If there is sufficient interest, we will arrange for a public presentation for authors by a lawyer with experience in intellectual property rights.)
To register, contact directortlc@msipress.com.
If interested in a distance-learning version, let us know. We may launch one in February if there is sufficient interest.
Giving Your Book a Professional Look
This course consists of four 90-minutes sessions. Intended for self-publishers who want to learn how to make their books more graphically aesthetic and having a professional look-and-feel, topics include cover design, illustrations, book layout in Indesign and using a printer's template, and typesetting conventions. Course is hands-on.
Session 1. Elements of Cover Design (front, back, & spine)
Session 2. Use of Illustrations (when they are and are not needed, where and how to place and fit them, where to find them)
Session 3. Book layout in Indesign (Indesign properties, adaptation to printer templates, text, chapter & part divisions, generating table of contents and indices)
Session 4. Typesetting Conventions (from manuscript to galley: avoiding mistakes of the novice)
Required text: none. Participants should own Indesign or be prepared to spend time at TLC during open hours for familiarization.
Tuition: $25/session
Evening sessions: Tuesdays 7:00-8:30 p.m.
To get on the list for a future course, contact directortlc@msipress.com.
Mechanics of Writing: Turning Amateurs into Pros.
Grammar does not kill, and learning to control grammar and phraseology puts the author in the driver seat of communication with readers. This is a personalized and fun course. Participants should bring manuscripts that they are already working on.This is a three-week course that includes grammar gotchas (such as tenses, sentence structure, homonyms), finally getting punctuation right, bringing stories to life by eliminating dead verbs, and rescuing hanging participles. Hands-on exercises, using participants' open work where possible, are included.
Required book: The Elements of Style (Strunk & White)
Cost: $20/session
Dates: to be announced; to get on the list for a future curse, contact directortlc@msipress.com.
Spinning the Yarn and Unraveling the Story
Who are you, and what is your story? Don't get lost in the details of your own life. Learn to distinguish among themes and letimotifs that develop a story and those that get in the way, select the details from your life/story that develop the theme (point you want to make), organize in ways that are interesting and easy to follow (such as thematically or chronologically), and how to make it all pertinent and interesting for the reader.
Required book: Telling Your Story by Toni LoPopolo
Dates and times to be announced; to be added to the mailing list, contact directortlc@msipress.com.
Cost: $10/session; course will not run with fewer than six participants.
Find us!
Call us at 831-593-1120.
Fax us at 931-886-2486.
Email us at info.tlc@msipress.com.
Write to us at 301 The Alameda, B-7, Box 394, San Juan Bautista, CA 95045.
Drop by our office at the Windmill Shopping Center in San Juan Bautista, Suite B-7, right next to the grocery store.