Published Books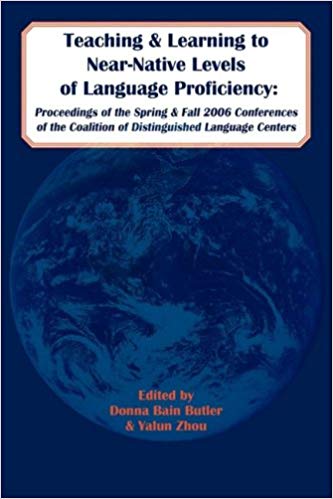 Teaching and Learning to Near-Native Levels of Language Proficiency IV: Proceedings of the Spring and Fall 2006 Conferences of the Coalition of Distinguished Language Centers
ISBN: 978-1933455075
$19.95
This book contains the proceedings of the 2006 conferences of the Coalition of Distinguished Language Centers. The spring conference was held in Amman & Irbid, Jordan.The fall conference was held in Washington, DC. The lack of knowledge about how to develop high levels of proficiency in foreign languages is a serious deficit world wide. Experience in teaching at/to ILR/ACTFL Level 3 (Superior) and Level 4 (Distinguished) language proficiency is rare. The Coalition of Distinguished Language Centers (CDLC) was founded in 2002 for the purpose of providing support to the universities, institutions, and schools with programs that teach foreign languages to the near-native level. Indirectly through its affiliates and directly through its various services, the CDLC seeks to foster collaboration among those experienced in this field in order to improve upon the current status of high-level language teaching, the importance of which increases as the world becomes more globally interconnected.
THIS BOOK IS AVAILABLE ONLY FROM THE MSI PRESS WEBSTORE!
ALL PERTINENT DISCOUNTS APPLY!
Buy from:
Reviews: