Published Books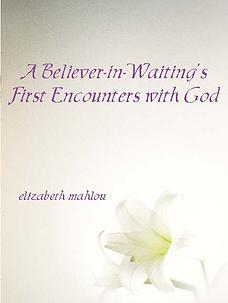 A Believer-in-Waiting's First Encounters with God
ISBN: 978933455280
$19.95
A Believer in Waiting's First Encounters with God allows readers an entrée into the world of what might be called a modern-day mystic, a world where spirituality, contemplation, hierophany, and miracles unite. Good, evil, suffering, darkness, unknowing, and the unconditional love of God are the leitmotifs that bind the author's experiences from the physical world to the spiritual realm.
ORDER FROM MSI PRESS WEBSTORE.
ALL PERTINENT DISCOUNTS APPLY!
Buy from:
Amazon
Barnes & Noble
Powell's
Books-A-Million
Alibris
AbeBooks
Other places to purchase this book:
Read an excerpt.
Become familiar with Elizabeth Mahlou at her blogs: